Books & Training Resources
Catherine is a best-selling author of 8 non-fiction books, translated into over a dozen languages, including…Hope Happens! Words of encouragement for Tough Times-Hot Lemon & Honey…reflections for success in times of change-Paper Clips Don't Grow on Trees; Add Value not cost to your bottom line-The Customer Service Zoo-Japan an A-Z Guide-Sports Marketing & Promotion-and Good Service is Good Business…7 Strategies for Success, which was a # 1 best seller in Australia & Taiwan. DeVrye has co-authored other books & corporate histories.
Her autobiography, Who Says I Can't? was first released by Random House & nominated for the Australian National Biography Award; previously published in North America by McArthur Press as Serendipity Road…a memoir. On the cover, Bryce Courtenay says: 'story of hope & perseverance-when's the movie?'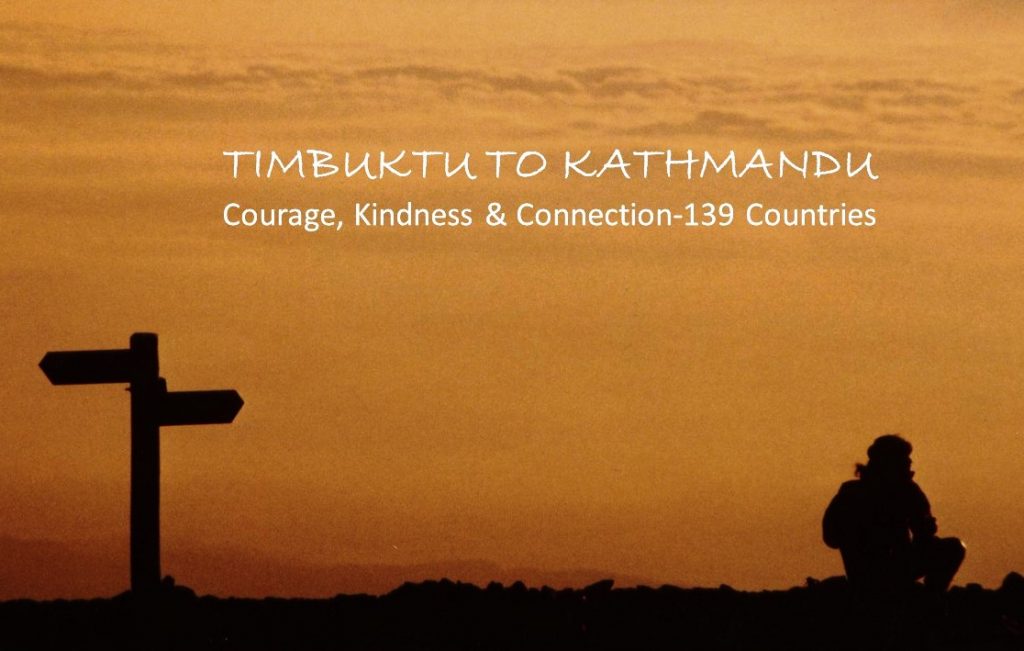 Coming Soon-Seeking Global Publisher
'Timbuktu to Kathmandu: Courage, Kindness & Connection Around Our World'
'Catherine may set out to go everywhere, but her explorations prove that with an open mind anywhere is as friendly as home'…Tony Wheeler-Founder Lonely Planet
SYNOPSIS: Amid media bombardment of conflict, cowardice, disruption and disease, readers will welcome respite through an armchair journey to share pizza with Syrian refugees, unearth truffles alongside Kalahari Bushmen, dine with princes or simply digest some surprising titbit from far-flung lands.
Xenophobic stereotypes shatter as booklovers discover that individuals are kinder than their governments; courage exists in improbable places and there's always common ground for connection.
From an author who has visited every continent and 135+ countries, these timely and timeless vignettes of global humanity, hope, humour and happenstance will linger long beyond current travel bans. Diverse travels between 9/11-Covid-19, spotlight surprisingly similar dreads and dreams; loathing and laughter that meld into greater empathy for those of different races, religions and nations.
Timbuktu to Kathmandu vicariously transports the reader to better understand that whether around the world or around the next corner, we are indeed all in this together.
The Gift of Nature:inspiring hope and resilience
Rockpool Publishing and available Simon & Schuster
Tragedy strikes unexpectedly in Mother Nature and human nature. Have you or someone you know lost a loved one, a dear friend or a four-legged friend?  Suffered a broken leg or broken heart? Worried by loss of health, wealth or job…or simply loss of perspective? When you've lost anything important, The Gift of Nature: Inspiring Hope and Resilience can help you find comfort and courage to stay calm and carry on.
In moments-or seasons-of despair, insights from nature and words of others who have survived tough times can renew hope and perspective. Accompanied by the author's own photos from every continent, symbolic of our universal human spirit, Catherine shares timeless lessons that helped her bounce back from setbacks. Likewise these words of wisdom and stunning images from Mother Nature will help you-and those you love-better weather the inevitable storms of life…a breath of fresh air for your soul.
BULK ORDERS:  For discount or branded books with a message from your CEO, please contact Catherine DeVrye: office@greatmotivation.com
% of author royalties goes toward supporting Lifeline,

WHERE TO BUY
Watch inspiring video trailer here
Who Says I Can't/Serendipity Road/
Hope as my Compass – A Memoir
#1 non fiction book on Calgary Herald best seller list
#9 non fiction book on Toronto Globe & Mail best seller list
Nominated Australian National Biography prize
published by Random House Australia, 2005 and nominated for the National Biography Prize. Then published in North America asSerendipity Road by McArthur.  Now only available as 'Hope as My Compass'
Abandoned as a baby in Canada, Catherine DeVrye was adopted by loving parents. When she was twenty-one, they died of cancer, within a year of each other. An only child, Catherine packed her bags for a 3-month working holiday in Australia, arriving jobless and near penniless.
Named Australian Executive Woman of the Year, dined with princes, prime ministers and Olympic athletes. She'd cycled over the Andes, dived with sharks and climbed Mt. Kilimanjaro….and finally, decided to search for her biological parents. And that's when her adventures really began, discovering her biological father was a champion rodeo cowboy. But the book is not just about the adoption of a child or adoption of a new country. The book is about adopting a positive attitude.
If you've ever felt alone and hopeless, laugh and cry through Catherine's story and become more empowered to turn your own stumbling blocks into stepping-stones.
RRP is A$ 29.95 – % of all sales goes to the Salvation Army 
'Story of hope and perseverance-when's the movie? ' Bryce Courtenay
WHERE TO BUY:
Hope Happens!
Words of enCOURAGEment for tough times
Published in Australia by Everest Press / Simon & Schuster / Hallmark
When you've lost whatever it is that's important in your life, it's important to find hope. The inspiring words of others, who have survived tough times and walked that rocky road in the past can help you on your path today to create your own tomorrows.
Paperback – A$16.95 – % of all sales go to NSW Cancer Council 

Available to download here as my gift as an e-book until further notice during this pandemic. Download Hope Happens
 "…an emotion filled book with great advice"
Bert Newton, Host of Good Morning Australia
BULK ORDERS: For discount or branded books with a message from your CEO,  please contact
Catherine DeVrye:office@greatmotivation.com
Hot Lemon & Honey-Reflections
for success in times of change
Table of contents
Chapter 3    Service from the heart of hot lemon & honey
Chapter 14  Change is inevitable-Learning from change is optional
Chapter 19  A path with no obstacles likely doesn't lead anywhere
Chapter 47  Take care of your customers-Take care of yourself
Are you so busy running around in circles that you don't have time to stop and think about what you're trying to achieve at work and in your life? Leading motivational speaker Catherine DeVrye shares her insights on how to make your professional and personal life more meaningful and effective.
Self-help Paperback – A$29.95 – % of all sales goes to Australian Himalayan Trust 

"…this book can lead you on the road to success"  Sir Edmund Hillary
"I found this book full of inspiration, valuable insights and useful information – vitamins for my mind and soul. I believe everyone will benefit from a daily dose"
Jack Canfield (author of Chicken Soup for the Soul)
Audio Summary – one hour
Presentation of key points in book to help with change in your life.
WHERE TO BUY:
Good Service is Good Business
7 Simple Strategies For Success
Originally published by Prentice Hall/Pearson and The Australian Institute of Management
From the #1 best-selling business book in Australia-get the complete kit or just the book or CD's
Complete Customer Service Training Kit
Due to client demand, the customer service book, DVD and 2 CD's have been collated in a handy A-4 Power Pack, with easy instructions to help train your staff in a time efficient manner.
DVD/Book/Audios – A$199
"Offering practical solutions that could be readily implemented"
Pan Pacific Marketing Conference
Available also in Twin CD pack
A 60 minute audio compiling the most insightful segments of the popular radio drive-time series.
A 45 minute audio which brings you excerpts from a live presentation.
Good Service Is Good Business (book only) – New 4th Edition

7 Simple Strategies for Success (S.E.R.V.I.C.E) – A$ 37.95
At one stage, the #1 best selling business book in Australia, written in a lively, easy to read style. Filled with practical examples drawn from case studies.
"An easy-to-read guide about how to build better service focused organisations" Australia Quality Council
Pricing for Paperback or Audio – A$ 37.95
WHERE TO BUY:
The Customer Service Zoo
Create customers for life…and a life for yourself!
If you've ever thought you're the only one who truly cares about service and you're not sure how to maintain the motivation, a moment at The Customer Service Zoo may be just what you need.
Paperback – A$29.95
"We had an all time record year and I am confident you contributed to this" – Mercedes Benz
WHERE TO BUY: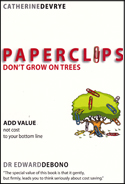 Paperclips Don't Grow On Trees
-Add Value not cost to your bottom line
The 7 most expensive words in any organisation are: 'We have always done it that way.' This easy to read book offers 99 chapters of practical thought starters about what you can do differently to reduce cost but maintain quality; eliminate waste & stimulate value.
'Congratulations on providing simple, yet effective cost saving ideas for both large & small business. The book is easy to read, humourous and offers practical ways to add value to any business' Hon Mike Baird-NSW Treasurer & Member for Manly
% of all sales goes to Blue Dragon Childrens Foundation 

WHERE TO BUY:
Japan – An A-Z Guide    
An easy and entertaining guide to many aspects of Japanese life, with a focus on effective business dealings. Published by Harper Collins.

Paperback – A$21.95
"Informative and entertaining" – Mitsui
WHERE TO BUY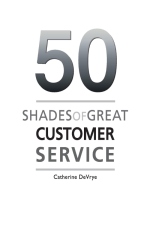 50 Shades of Great
Customer Service
WHERE TO BUY:
BULK ORDERS: For discount, please contact
Catherine DeVrye:office@greatmotivation.com