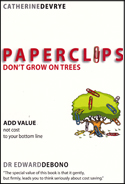 Paperclips Don't Grow
on Trees
HON. MIKE BAIRD-NSW TREASURER
'Congratulations on a wonderful book. I have read "paperclips Don't Grow on Trees" with much interest and commend you on providing effective cost saving ideas for both large and small business.The book is easy to read, humorous and offers practical ways to add value to any business.'
PAUL KOENIG PARTNER
European Australian Advisory Group-formerly PWC 'Paperclips' is a superb book everyone in management, whether in an SME or in the largest multinational corporation, must read.  It reminds the reader of the very basics of business: only incur a cost if it adds value to your business.  We all know what Catherine writes about – the trouble is it has slipped to the back of our mind and this book jolts it back to the front in a fun and entertaining series of stories and analogies.  You should read this book a chapter a day to jog your memory every day.  Your business survival depends on it! I loved this book .'
MONEY MAKERS SKY TV
Thanks for joining us as a guest on Money Makers. You did an excellent job explaining the value of customer service in these changing economic times.  You certainly have a wealth of knowledge and I hope we have another opportunity to work together on the show so that we can share this with small business owners. I look forward to working with you again.
THE SEMINAR COMPANY-INDIA-PRAKASH IDNANI
"Paperclips Don't Grow on Trees"-The book is easy to read and certainly drives home the point.
GRAHAM STREET-NZ APPLIANCE ASSOCIATION
'I have really enjoyed Paper Clips. It is great, nice & short chapters, Every manager, supervisor, employee & self employed regardless what they do should read it. I am recommending it to everyone.'
RAMS
'I have spent a few minutes over the past couple of days flicking through ' Paperclips' and am reminded of your wisdom and good humour!'
MIKE LAZAROW
'I have scanned through Paperclips already and it is a great little read.'
STEPHEN MUDGE-CONSULTING GEOPHYSICIST
'Your concept of "adding cost" or "adding value" has certainly made me think, and I suddenly realised what some of my clients have been saying for a while that one of my standard reports I issue with processed data contains too much detail and is unnecessarily  too long for them – they only what the answers, not the detail and explanation as to why the answer is the way it is.  Now I see that I'm not adding value for them by providing too much detail.  I'm now going to reduce it from 20 pages to about 5 pages.  That will do them a favour in spending less time and mental effort trying to read and understand it all.   I wasted about 30 days getting the long report just right – but failed to realise that in doing this I was actually not adding value, just increasing my cost and wasting my clients time trying to read it.  So thanks for seeing the big picture and passing it on to us more highly focused boffins'