READER COMMENTS (original documentation available)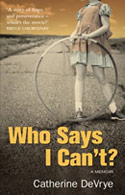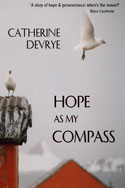 Bryce Courtenay
'Story of hope and perseverance – when's the movie?'
Mark Victor Hansen-co-author of Chicken Soup for the Soul

Take your life from tragic to magic. Be inspired to rise higher.'
Sunday Telegraph Sydney & Sun Herald Melbourne
'It's onwards and upwards for the adopted Canadian born author who has positivity in spades.'
Australian Book Review
'More than an adoption story, Who Says I Can't is the story of a self made woman triumphing over adversity-a rollicking good natured yarn, full of achievement, tragedy travel, famous names and acclaim.'
Brisbane Sunday Mail
'Had audience spellbound with guests at Versace afloat on emotional eddies of admiration'
Bundaberg News Mail
'honest account detailing the adventures of a woman of real substance.'
Business Mum's Network
A mix of motivation and autobiography rolled into one, this book will inspire to you follow your own path for a satisfying life. Businesswomen everywhere could do no worse than use DeVrye as a role model and inspiration, starting with reading her memoir.
Canberra Times
'DeVrye's book deserves to be read-an extraordinary account of an extraordinary life'
Calgary Herald
An engaging memoir-it is in part a story about adoption but it is simply a great read about a fascinating life

Como Writer's Festival
'Thank you so much for your invaluable contribution in Writers at Como in conditions that can only be described as horrendous. The sessions were unfailingly stimulating and engaging, and the time and effort you put in is greatly appreciated.'

Diamond Valley Leader
'An eventful life story
Doubleday Book Club
The true story of an extraordinary woman's lifelong quest to find her place in the world
Dymocks Adelaide Best Sellers WE 27th Feb 05
If only all authors were as delightful as you
Da Vinci Code
Angels and Demons
French Don't Get Fat
The Corporation
Perricone Promise
Chainfire
Who Say's I Can't?
Gold Coast Bulletin
'Made us laugh and cry and proud to be women, author Catherine DeVrye holds the audience spellbound.'
Herald Sun
'in a word-inspirational'
Leading Edge Books
'A warm, inspiring & compelling memoir'
Manly Daily
'it is her relationship with her adoptive parents, their death within a year of each other when she was 21 and her subsequent search for and reunion with her biological parents which deliver the most poignant parts of the book.'
New Idea New Zealand
'…a book filled with personal journeys, successes, high and lows. With a style so effortless it's hard to put down, readers are bound to relate to passages…'
Noosa Weekender
'Not just a story about adopting a child but adopting a new place to live and adopting a positive attitude'
Norfolk Island Writer's Festival
'You are such an inspirational speaker, having heard you at the Writers & Readers festival on Norfolk Island. Just what we need to get us going in the New Year to be inspired to keep writing.'

Peninsula Living
'Northern Beaches Legend'
SKY News Jacinta Tynan News Presenter
I wanted to say thanks for doing the interview at Sky the other day and I'm sorry it had to be so brief. I really enjoyed meeting you – putting a face to the person's life I've just read about. Congratulations on the book. It's an extraordinary story.
Sunday Mail
'With an easy style and a nice turn of phrase, DeVrye will pull you along on her inspirational quest.'
Sunday Telegraph
'she will pull you along on her heart wrenching, inspirational quest and lead you to ponder the nature of family and the rewards of aiming high in life'
Sunshine Coast News
'A searingly honest account of the adventures of a woman of substance….searingly honest and often humorous self deprecatory autobiography, she draws heavily on the diary she has kept since childhood, thus giving he full recall of a remarkable and adventurous life. Inspirational
The Chronicle
In this searingly honest but often humourously self-deprecatory autobiography, DeVrye draws heavily on the diary she has kept since childhood, thus giving her full recall of a remarkable and adventurous life. Inspirational for the aspirational
The Program-initiative of Australia Council
I'm not a huge fan of memoirs. However, Catherine DeVrye's Who Says I Can't? is definitely a refreshing exception- a damn good read. DeVrye's writing is powerful and emotive – I admit to nearly shedding tears a few times, and I like to think of myself as being fairly tough!  The inclusion of her diary excerpts only serves to strengthen her prose and ultimately gives us a better insight to her than her autobiography alone could.
The Program Reviews Jaclyn Fitzgerald
DeVrye, a native Canadian who emigrated to Australia, writes in a style that is evocative, powerful and interesting. Self-indulgence, thankfully, is not on the agenda. DeVrye just wants to share her life and provide hope for others at the same time. I don't want to give the whole story away as it's a damn good read…DeVrye's writing is powerful and emotive.
Who Say's I can't? is a story of overriding determination, hope, courage and above all else perseverance. The one thing DeVrye never did was give up.
The Sunday Mail, Gold Coast
It was one of those magic breakfasts: inspiring, touching and deeply relevant. Lady of the morning, effervescent Catherine DeVrye….entertained the audience with her amazing outlook on life.'
The Weekender, Sydney
'It's onwards and upwards for the adopted Canadian-born author who has positivity in spades. And she's not wasting her energy on past pitfalls, that's for sure.'
Toowoomba Chronicle
A life stranger than fiction……'Inspirational for the aspirational'
Valley Weekly
Top business woman Catherine DeVrye captured an audience's attention at Eltham Bookshop with her story of tragedy, triumph and coincidence.'
Winnipeg Free Press
provides readers with an autobiography, a road trip full of Forrest Gump-like adventures, and a chick flick of female self-discovery.
Calgary Public Library
This was our most successful author program at this branch in years….fabulous! It was a huge success, everyone is talking about it! We had many comments from customers about how much they enjoyed it and wished they could have talked to you longer. Many customers have commented that they would like enough copies for their book clubs. We have thirteen copies, they are all signed out and we have over 50 customers on the wait list for it.
Adoptive Parents Association of NSW
Thank you for your book which I, as the President of the Adoptive Parents Association of NSW, recommended we include in our library. Your frankness and openness about all aspects of your life were uplifting. I know that you have a gift and are sharing it.'
Book Shop Owner
I have read your book and have found it an absolutely amazing life- sad, exciting and very inspiring
what a wonderful book-truly inspirational. My wife bought for her book club and I couldn't put it down
Allow me to say how much I enjoyed your compelling memoir. Your really did do a great job of getting it down to the essential story and it was a page turner for me. Congratulations again and again
…… …..I am reading about your melanoma scare in the late 90s. You have a very good sense of humour that is enjoyable to read (I read on the bus and have to bite my lip so I don't burst into laughter in the crowd)
Just wanted to tell you how much I enjoyed your book – found it very moving! Gave several copies to various friends , including my sisters, and they all found it riveting.
'It felt as though she was in side my head – the feelings that I have about my life's journey
I loved the book and read it fairly quickly and I enjoyed all of it. Congratulations on a good read which reflects a very interesting life.
'loved your courage, your energy, your positive philosophy, your warmth and humour – you are an outstanding person.'
Saw your book at our local bookshop (signed by the author!). Enriched the Salvation Army by a small amount, and myself a whole lot more.
I was truly AWED by your book, at its depth and sincerity, and again AWED at the life you have lived. I think your message to me is that we all need to be the best we can be, and truly learn by our mistakes. Your journal entries are amazing.
I've torn myself away just as you've found your birth father, because I must get some work done, but I have to tell you – your autobio is wonderful. You've done a stunning job of cutting to the chase and giving us the essence of your story. It's very gripping.
I just wanted to write and tell you how much I am enjoying your book! I am only on page 154 and am so wrapped up in it I almost miss my train stop to and from work !  I also have needed to do lots of deep breathing for fear that my eyes are going to burst with tears in front of everyone on the train !! (I must try reading more at home !!!)
Just wanted to convey to you how much I enjoyed your book "Who Says I Can't".  Thoroughly enjoyed the content but moreso your frankness about everyday experiences. Admiration goes out to you, not only because of your achievements (so many) but because you sound like a really honest, hardworking, giving and dedicated person to all around you.  The world is a better place with you in it, and we are lucky for your contributions here in our wonderful country. I wish you well for your next 50 years.
a much better book about parenting than the books my daughter has been reading. I hope you have been having great successes with your book. To me, the main message is: We are in control of who we become and by staying positive no matter what, we do impact our destiny positively
a beautiful and candid insight into the first part of an insatiably inquisitive and exploratory girl's life. You have finely carved the written form of your journey from '51 to 2000.  My guess is that there is more to be told by the woman between these lines and now much more to be lived.
No one would dare say you can't. A sensational story…
…allowed me to share the incredible undulation of emotions as you experienced them. The eerie series of coincidence that guided you along your path of fate raised the hair on the back of my neck. Overcoming your difficult start in life and dealing with a long period of setbacks and challenges has demonstrated your courage and commitment to succeed.
Congratulations on producing an exceptional book, I look forward to news of your next book.
It has been to North Stradbroke Island with me for a great holiday and I am almost half way through. It's amazing! You are such an excellent writer and have done soooo much in your short lifetime!
I was particularly impressed by all your journal entries. Your literary talent shone even all those years ago! Your writing style is so descriptive and entertaining. I am going to encourage my daughter to start a journal now.
My wife read your book cover to cover shortly after the launch, and loved it (I am a little slower off the mark with reading books).
Now let me tell you that reading your book happens to be a personal best for me (3 days) & that is a record . Just ask any of our friends. They are absolutely amazed with me as I've been known to take up to two years to read a book!!!  So I'm a great endorsement . Who says I can't read a book fast?
Your book will be an inspiration to many – God bless.
I just finished reading – I've taken every moment I could squeeze out to keep going.  Work has been all consuming.  So I wanted to say straight away, what a fantastic achievement.  What a journey – what a beginning.  So many mountains to be climbed, still…if you want to.  If I could make dreams come true I'd grant you the film.
Thoroughly enjoyed your book and I have now passed it on to numerous friends to read because I know they will enjoy it as much as my husband and I did.
Hope the book is going well, it did make me cry, and it inspired me as well.
My 18 year old daughter is now reading it and really enjoying it, which is great.
Have just finished reading your book – Bravo!!!! It was a great read into your life and thoughts and fears and hopes and your blessings in life….
I am in the midst of your book as we speak – thank you for sharing some pretty hard moments in life with us all.
As the reader, I feel so much love and admiration for your Grandfather and wishing I was blessed to have met him. The third part of my brain feels as if,… us, the audience, are filling his memory/entity with love through your writing. Now we will all remember and cherish him too.
As soon as I saw the picture on the cover I had this feeling of wanting to hug this precious little girl with her hoop – the long, skinny legs and arms so full of energy and restlessness.  You were obviously very much loved for there you are in your pinafore dress with your Mom trying her best to keep you from being the tom-boy you wanted to be.
I think we should all let Oprah know about it, which is what I plan to do once I sign off.
I wish you the best your heart desires, and that you are now at peace inside, because your peace, will also be the example others will experience once they have taken the journey.
Reading your book on the plane to Canada to see my mother was an emotional experience for many reasons – all those long forgotten memories of growing up came flooding back, concern for my ill mother, comparisons of my arrival and settling in to my new country Australia.
Congratulations on a good read which reflects a very interesting life.
Good  stuff,  You must feel a load off your chest now, storing up all those memories and adventures and putting them to paper there's now more clear storage in the memory cells.
You can now go and have more adventures so you can write another book.
I wept and was touched about your personal upbringing, interested in your experiences with people who are still friends of mine and laughed with amusement about your love life.
This email is for Catherine DeVrye, who I am sure is too busy to read emails from strangers…however on the off chance she gets time I wanted to say a few words…
I recently purchased your book "Who Says I Can't" at Sydney airport at the start of a trip to Italy for work followed by the UK to visit my family, ending with New York as a new experience to absorb…before finally returning to my adopted city of Sydney. From the first page to the very end of your book I came across what felt like incredible coincidences between our experiences and amazing empathy with some of the emotions and feelings you describe as if I had taken extracts from my own diary.
I have tried to describe the goose bump moments to other people when reading parts of your book and associating them with moments in my life, but relaying the feelings out loud sounded a bit insane …Anyway I won't ramble on…except to say I read your book at a time I am feeling a great need of guidance / a new direction or something positive in my life….and something connected to me which I would like to thank you for. There were probably equally as many non coincidental moments too……but I have never read a book and felt compelled to contact the author before.
I am reading it and really enjoying it – up to p.144. I don't think its just because I know you but rather its very brave of you to be so honest, leaving you vulnerable, and at the same time reassuring to many who've travelled the same road.
Finding the book very refreshing-there are so many things in the book that makes me reflect back on my own life,-so many things I can relate to in your book.
I hope you are starting on your next book now. As I am not a keen book reader, this book has changed my mind.
This is the first time for many many years that I have read a book from cover to cover. I finished reading last night. I feel so humble in reading your experiences and in many cases bringing back memories of my younger days behind every thing we do and one day will lead to a master plan.
Last night I finished reading Who Say's I Can't? To your book thank you. I found the book so full of love, respect, value for life and its journey: appreciation for what has been; is and will be: gratitude and much, much more. Many were the times as I read, that I laughed. Also much of the time there was a tear in my eye. Above all there was a great feeling of respect. Respect for you but also respect for so many people that your rich tapestry, people who have influenced you and them.'
Your book has given us a fascinating insight into your remarkable life to date. It is such an unimaginable saga it is difficult to put our feelings into words. It began as a compelling read and became an even more compelling read as the drama unfolded.
My wife could not put the book down – adding considerably to my domestic duties at the time.
Your story has affected us profoundly with your humour and tears, your highs and lows  and your courage.
You have certainly laid your heart on the line.
Reading your book last night, I couldn't help but conclude that we are two souls that have lived parallel lives; only we have done so 25 years apart. Your story has inspired me Catherine. I would love to meet you one day.
I have been reflecting how brave you are to tell your story – it really is a very invasive & personal thing to do…'
'Last Thursday I came to the library to hear you with some hope in my heart – you gave back to me hope and understanding. You are for me a good writer. I like your book, I like it a lot.'
The guests were raving about your wonderful speech and as you know, forming an impressive line for your books.'
'It was a 'beaut' read as I commend you on your honesty. I was particularly interested in your relationship with your biological mother, Trudy. Thanks for not 'sugar coating' your reunion with your lost family. This made all the difference to me.'
JOAN BEDAL
'An Inspirational read for any age. Ms. DeVrye's memoir should be required reading for everyone as it is a guide to what one can accomplish if one has the will to try.'
RON PATERSON
'I well remember our 'on air' chat. I did a couple of hundred such chats over a period of time, with some remaining in my memory as being 'pretty special'. That's how I read you, just like your book "Who says I can't ?"
KRISTYNE
'Thank you as Who Says I Can't got me through my darkest day & loss of my husband…and helped me realise every obstacle is an opportunity' and over a year later I think of your messages around customer service & appreciation-and thank you for your ongoing wisdom & inspiration'
LAURINE
'I enjoyed Who Says I Can't so very much-the coincidences were amazing I feel privileged to have obtained an autographed copy of your book from Written Dimension Bookshop in Noosa. Thank you for telling your story.' Over a year later I think of your messages around customer service & appreciation-and thank you for your ongoing wisdom & inspiration'
ALLEN MORLEY-EX STEEL INSTITUTE
'Your example of your life story inspired others'
ALAN LINDSAY
'After reading your book, it over took Lance Armstrong's in my favourites list'
PAM
'Congratulations on a wonderful book, Who Says I Can't. It is certainly the best of its kind I have read dealing with a very delicate situation, Ever since adopting our own daughters there is so much in your story that I relate to.'
MARION
'Thanks you for sharing your life story. How curious that it is the only the second one I've read-the other being Mother Teresa's You story reinforced to me that when I make myself feel vulnerable and share what is real I realise my own strength & it helps others to become real You shared at an intimate level-not like some others high & mighty) which gave me greater connection and motivation to move forward.
SU ANNE
'It is very special & you have shown me that we should be celebrating every day'
JOYCE
'Just finished reading Serendipity Road, and enjoyed it very much. By now you may have found out who Charles B Hill was, but just in case, I can tell you. Charlie Hill was a social worker for the province of Alberta. He would have done the home study for your folks, and approved them for your adoption. I am a (retired) social worker, and used to work with a man who knew Charlie, and spoke of working with him in the early days. I think they were called inspectors in those days.'
ANNA
My name is Anna Swanson and I am writing to you from New York City. I just recently returned here after a four-month trip to Australia. While there, my good friend Simone gave me your book "Who Says I Can't?"; she had gotten it off her mother's bookshelf. Although I'm not usually one to read memoirs, I devoured your book in two days. In short – it was inspiring. At length, your message was exactly what I needed to hear at the right time. I've spent the last few months reconsidering my goals in life and digging for courage to make changes. Reading your book, I was inspired by the way you have taken any and every opportunity that has come your way. What is more, you never allowed fear or doubt to keep you from trying (and succeeding at) something new. After reading your book, I finally felt motivated to make the changes I want, and I also realized that sometimes the courage to do so joins you along the way, so it's okay to get started even with some unease.
So I wanted to thank you, and let you know that I have started doing what I have long wanted to do: write. I have started a blog, and I hope you don't mind, but I posted a simple quote from your book (a quote which meant so much to me). I gave you due credit and also put a link to your site. I would love nothing more than for someone else to stumble across your message and feel the same way.
Thank you for your time, and I hope you continued success with your work…it's important!
ADELINE
''I just wanted to drop you a line to let you know how much I enjoyed "SERENDIPITY ROAD". I too have climbed many mountains and crossed many bridges in my life but not ones like you have. I made a 'Bucket's List' of thing I'd like to do in the future '
KATE
I am not sure why it took me so long to read such beautifully written memoir. I was handed Serendipity Road in 2007, from a pen pal who worked for an editor in Toronto. I felt so connected to your energy and your ability to pass on positive, and powerful advice.
At one point in my life I read 3 of Simone De Beauvoir's memoirs. Her endless adventures, her firsthand experience with war, her ability to search for meaning and answers; and a love saga with a man who was somewhat of a life partner, captivated my spirit. Just as your life experiences have. Your story has given me so much to ponder; it truly gave me insight into my own journey!