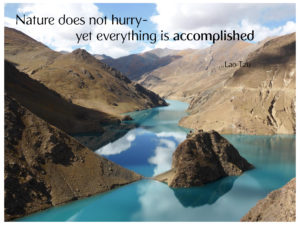 With less than a month until the end of the year, I wonder if I'm the only one experiencing moments (or even hours!) of occasional overwhelm?
Do you ever scream at your screen or curse the computer? The more noise contaminates our time, the more we need to escape, if only momentarily, from the 'high tech' to the 'high touch' environment of nature. Electricity can recharge my devices but only nature has sufficient power to recharge the spiritual batteries of my soul.
Too often, we take energy, personal and environmental, for granted until we no longer have it. Regardless of our roles in life, we all need to be re-energized. Both nature and time have a unique way to rejuvenate if we allow space for this to happen in our hectic schedules. I often need to remind myself of the ancient wisdom from Lao Tzu that:
'Nature does not hurry. Yet everything is accomplished.'
Most organisations today are aware of their environmental responsibility. But beyond legal requirements, are there lessons from nature that may boost resilience amongst employees to accomplish more with less stress? And before you cynically dismiss this thought as too 'touchy-feely', think of scientist, Albert Einstein's comment:
'Look deep into nature. Then you will understand everything better.'
We need to re-charge not just our devices but ourselves. My own energy always seemed boosted amidst nature. Climbing in the sublime silence of the Antarctic, strolling along a beach or gazing at a beautiful garden all offered their inexplicable breath of fresh air for my soul. Only while writing my latest book, 'The Gift of Nature: Inspiring Hope & resilience'-did I discover why. Research from leading universities now offers scientific evidence that time spent in nature does indeed contribute to better mental well-being. And whether you're a CEO or just joined the organization yesterday, you can't take care of your staff, your family or your business, if you don't take care of yourself!
So here's a few simple nature-related tips to help cope with that overwhelm we've all felt from time to time-that seems somewhat heightened at the end of each year:
Don't…make mountains out of molehills, play the blame game or make excuses. It might not be fair.  It might not be your fault-but it is still your responsibility to deal with it. Ask yourself –will this matter in 5 or 10 years' time?
Do…Get moving and stop moping. You don't need to climb Everest but never underestimate the rejuvenating powers of getting out in nature for a walk on a beach, in a park or in your own garden.
Do…Re-charge your high tech world amidst the high touch world of nature. We're so busy being busy that we overlook the importance of balance. And unless you're an emergency worker, you don't need your phone on 24/7.
Do…get 8 hours sleep- and sleep on it before making any major life decision. Take time to breathe in fresh air as you inhale the future and exhale the past.
Do…Talk to a trusted friend or health care professional.  A problem shared can be a problem halved. Never be too proud to ask for help.
Do…fill your mind with positive thoughts. We're bombarded with the worst aspects of Mother Nature (typhoons, tsunamis, drought, fires etc) and human nature (bullying, abuse, corruption, violence etc ) If a beautiful quote or photo from books, music or art resonates with you, put it on your fridge or bathroom mirror as a daily reminder to soothe your battered soul.
In this increasingly complex world, simple lessons from nature's gifts can indeed help weather the inevitable storms of life. Thank you for the gift and honour to speak at your conference in the past and below is a peek at a less than 60 second relaxing reminder to take some time out for you to re-charge this year end.
For that perfect Christmas gift, here's a peek at 'The Gift of Nature: Inspiring Hope & Resilience' Available good bookstores and online at Amazon, Booktopia, Book Depository, Chapters, Barnes&Noble